Audio CD can be played on most types of the home stereos and such types of CDs are not different from any other disk you buy in the music store.

If you want to create an Audio-CD choose "Create audio CD" after you start the program, then click next.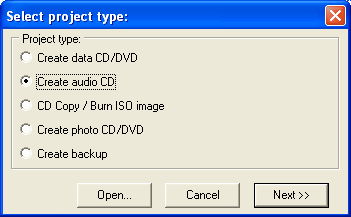 Now you can drag and drop audio files from your hard disk to the CD or add them by clicking the Add track(s) to layout icon or simply by pressing the Ins key on your keyboard. You can use wav-, mp3-, wma-, and ogg-files.

Please keep in mind that you can't drag and drop audio files directly from an existing audio CD. You first have to save (rip) them to your hard disk. For that you can use CDex (http://www.cdex.n3.net).

To change the track-order you can press the corresponding icons on the toolbar or drag and drop them up and down in the CD image. You can also listen to the tracks by using Play/Pause/Stop buttons at the bottom of the window.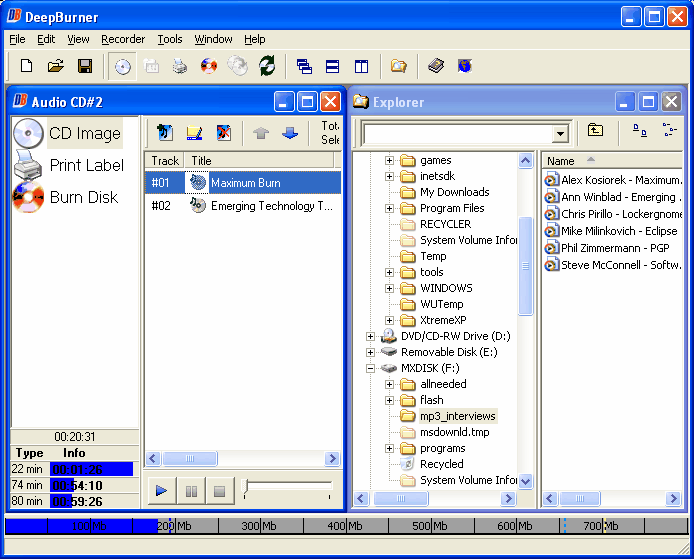 After you added all audio-files to the disc, click on "Burn disc" and then on burn. If you have multiple recorders, you can choose the one you want to use for the burn process below "device". If the disc is already full you have to erase it first (quick erase recommended). Please see the Erase medium section.

Note that some CD-players are not able to play audio-CD-RWs. If you experience any problems with burning, try do reduce the speed or change the write method.