If you want to create a data-disc, choose "Create data CD/DVD" after you start the program, then click next.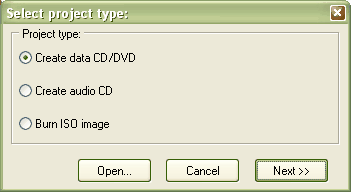 You will now be asked whether you want to create a new multisession disc, continue a multisession disc or use no multisession.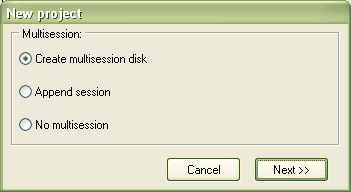 Because in most cases you don't use the full capacity of a medium when you burn something, it is sensible to create a new multisession disc so that you can add files to the disc later.

If you already created a multisession disc and want to add files to the medium, you should choose "append session".
However, if you don't want to continue the disc you can choose "no multisession". Then you can only change contents or add files to the disc while you erase it, of course you will need a CD-RW or DVD+-RW in order to do that. You can't erase CD-Rs or DVD-+Rs.

If you now click on "next" the data-CD layout should appear and you can drag and drop files from the explorer (right) to the medium (left). Alternatively you can add folder by either right clicking the CDRoot icon in the Data CD window and selecting Add folder or by clicking the folder with green cross from the Data CD toolbar.

To rename the medium, click on the name (in this case "CDRoot") and hit the "change volume label"-button above or F2.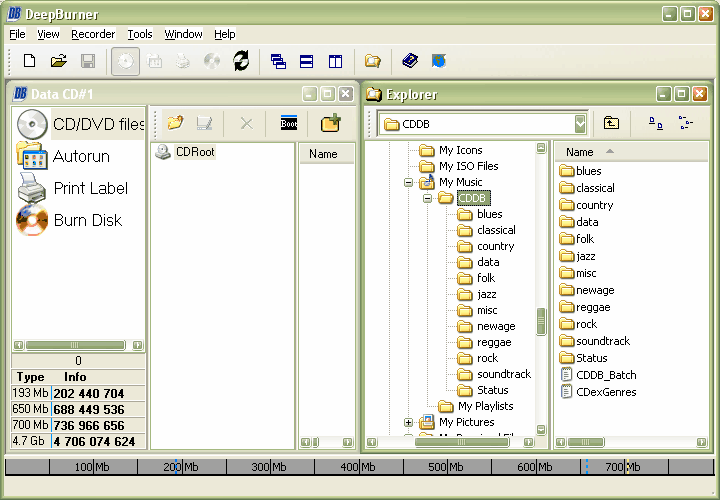 If you have chosen "append multisession" before, you first have to select your burning device and the session you want do continue (Important note: you should always choose the last session!).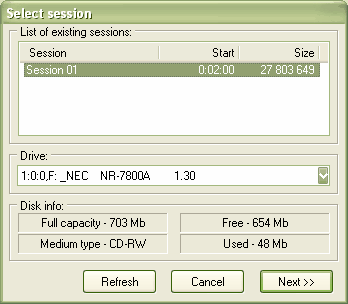 After you have added all the folders and files you want, click on "Burn Disc" and then on "Burn". If you have multiple recorders, choose the one you want from the "Drive" drop list. If the disc is already full you have to erase it first (quick erase recommended). Please see the Erase medium section.